Need a comedian for your upcoming event? You've come to the right place.
Dan Deibert is a professional comedian with over 25 years of experience. His act is perfect for your next event because it's humor for adults, without being too "adult". Feel free to bounce around the site to have your questions answered. When you are ready, fill out the booking form below or over at the booking page.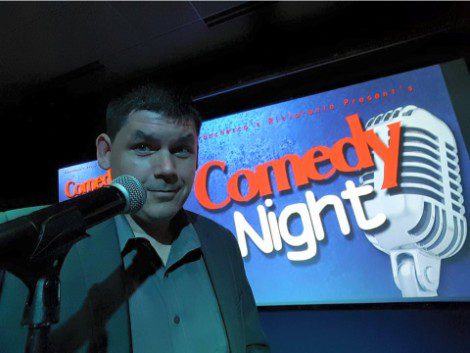 Dan Deibert
Dan has been performing stand up comedy for over 25 years and is one of the most frequently booked corporate comedians in the Upper Midwest.
He's made numerous appearances both as a comedian and host on network TV and has hosted radio shows in Chicago, Milwaukee, St. Louis, and even a nationally syndicated show heard on over 100 radio stations across the county.
With a clean act that works in both comedy clubs and the corporate setting, Dan deals with drunks, drug stores, and driving. Much of his material is based on marriage and family life. It's material we can all relate to.
What They've Said
Once upon a time, someone was in the very same position you are now. Looking for a comedian for your upcoming event. They chose Dan Deibert and here is what they had to say afterward....
I would love to help make your next event a success. To get started with a quote, I just need a little information from you.
If you don't have all of the details below, that is fine. Just let me know what you know and I'll get back to you within one business day.